In case you didn't read this Thursday's New York Time's Fashion Diary by Guy Trebay, I'll give you a one sentence summary: The dress is dead. Actually, let me rephrase that. According to Anne Slowey of Elle Magazine, the dress will be dead in August. After August pants, trousers and slacks will be the "it" item.
Whether you follow trends religiously or not, realize they affect the merchandise in stores, so whether we like it or not, we'll be affected by the imminent demise of the dress trend. Though I love great fitting trousers and pants, you can't twirl in them. Twirling and wearing pants are mutually exclusive events.
And what about Ms. Diane Von Furstenberg? Her name is synonymous with dresses, especially the jersey wrap dress which spurred her to fam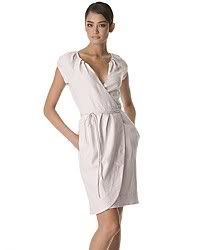 e.
What would Sherri McMullen, proprietor of McMullen Boutique, think of this? Would she stop carrying Diane Von Furstenberg because of this anti-dress sentiment?
No, because at McMullen Boutique they "believe in buying clothes and accessories that are stylish and versatile." McMullen, though a supporter of up and coming designers, does not follow trends like a chain store. Ms. McMullen, who has significant retail buying experience, knows that "service is everything" and can use that to her advantage by keeping DVF's dresses in stock for her twirling customers.
McMullen doesn't just carry DVF. Rag and Bone, Inhabit, Gryphon, Dana Kellin and more. But it's not just what is in the store, it's who is in the store. McMullen Boutique has an in-house tailor once a week to make alterations, which is sometimes so essential for making an ensemble as stellar as it can be. Two more exciting services McMullen offers include personal shopping for fashionistas on the go and even better closet consultations. McMullen will come to your house and assess your wardrobe!
If she came to my closet what would she tell me. . .more pants? Or more dresses?