by Boutique Peek
My favorite scene from The Wedding Singer is when Drew Barrymore's character is auditioning a wedding singer for her upcoming nuptials since Adam Sandler's character recently retired from the wedding singer profession due to a broken heart. The man viewers see auditioning? An extremely sleazy Jon Lovitz crooning Ladies Night, crudely inappropriate for a wedding audition, but dreadfully appropriate for comedic purposes.
How does Jon Lovitz's slimy rendition of Ladies Night relate to shopping? Actually, it doesn't, but whenever I see a Ladies Night advertised Mr. Lovitz's seedy version of Kool and The Gang's 1979 jam gets stuck in my head. So when I saw San Mateo's Lulu Boutique advertising Ladies Night Out every first Wednesday of the month I immediately thought of Jon Lovitz. Fortunately the other aspects of Lulu's Boutique droned out the crooning of one of the most infamous Saturday Night Live cast members.
New co-owner, Jamie Sears, has no affiliation with the slimy and seedy Mr. Lovitz. Instead she's taken the helm of a formerly denim focused boutique and turned it into a pleasant mish-mash of vintage and contemporary trends, as well as high-end denim. The former Barney's New York buyer has her finger on the pulse of fashion.
Up and coming designer Jenny Han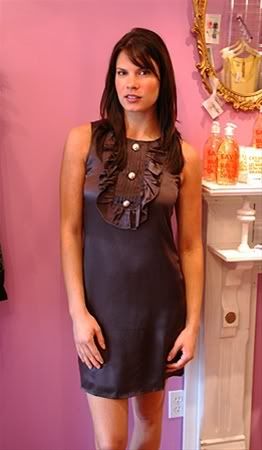 and eternally classic DvF
and Keoni
rest next to FS/NY shoes
and Citizen for Humanity Jeans and Humanity Knits.
Now combine all those designers, plus more, and a glass of wine or a cocktail of your choice on a Wednesday night, and I assure you'll leave Lulu with a few other things than an old funk hit echoing through your brain!