by Boutique Peek
Misery loves company, but Missouri loves shoes. That is, Joplin, Missouri loves shoes.
Sophie's Shoes will only be a year old on July 30th has the "Show Me State" saying "Show Me More!"
Owner Ashley Rush, a 2006 Missouri State University graduate, grew up in the area aware of the lack of fashionable footwear. Post graduation did not consist of backpacking across Europe or applying for graduate school, instead Ms. Rush was flying across the country researching products and creating a business plan. Last July Ms. Rush opened her doors to a community full of women in dire need of fresh fashions for feet.
Adrienne Vittadini, Charles David, and Oh Deer line the shelves of the petite shop. But the list of must have designers doesn't end there. Think Jessica Simpson is only good for dating hunky men and wearing Daisy Dukes? Think again. Her handbags are affordable and cute!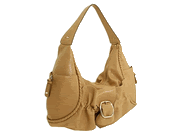 And think Ms. Simpson is the only one who can sing and design affordable fashion pieces? Think again. . .again. Carlos Santana is smooth and sexy enough to croon his way into a women's heart, but if he lost his voice and his sex appeal I'd still hang with him courtesy of his ability to designer a killer wedge
. Oh the "Evil Ways" you could walk all over a man's heart in those shoes, you "Black Magic Woman".
Poetic License, Restricted and Jeffery Campbell (who doesn't love fuschia flats?!) line the walls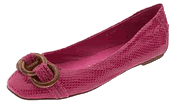 . Handbags by Elliot Lucca, Rampage and Miss Mak & Due Fratelli make leaving room in your closet an impossible feat. Fortunately Sophie's Boutique is currently running a promotion that allows customers to bring gently worn shoes to donate for Soles4Souls, a charity that donates shoes to persons in need. Each pair of shoes donated through Soles4Souls at Sophie's will garner you 5% off each pair of shoes in the boutique (up to 5 pairs!).
The United States bought Missouri from France in 1803 thanks in part to the Louisiana Purchase. Your purchase at Sophie in Joplin, Missouri shouldn't exceed $1,803, but if it does, YOU GO GIRL!